ARTURO SAUCEDO III - CEO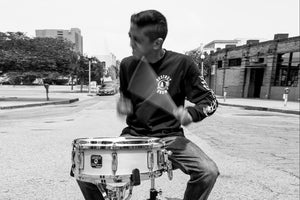 As a drummer of 15+ years in the marching, concert, & primarily drumset world playing is an everyday need for me to survive physically, mentally, & emotionally. I wanted something to represent how drums are life, not just a hobby. I play extremely hard & passionately not to be annoying or loud but because I perform like it's the last time ever holding a pair of sticks. Every type of emotion flows, every ounce of energy is poured out, & every single note is played to make an impact that will last forever. 
We serve a purpose not only in the drum world but for any passion & person that can see Destruction as a form of creation. As a company our mission is to inspire everyone to pursue their true passion in life, never settle, & always Destroy for the better.
"Every act of creation is first an act of Destruction." - Pablo Picasso
---
Also in DESTROY A DRUM FAMILY